[Weapons] LeMat Revolver S/N 55
Posted By: John Morris (71.191.28.122)
Date: Tuesday, 10 August 2010 0703 hrs. EDT
Contributed by members Sam and Wes Small of The Horse Soldier, Gettysburg, PA

LEMAT REVOLVER

English made. S/N 55, all matching. This piece is featured in LeMat - The Man, The Gun by Forgett & Serpette. It is described in Chapter 10, pp. 77 & 78. The frame, cylinder & shot barrel are gray w/a slightly dusty surface & minor age staining. Some very light pitting is present on trigger guard & backstrap. The revolver barrel has approx. 30% or better of its blue, the rest being bright gray. All mechanics are crisp. Birmingham proofs are present on the left side of revolver barrel, on each cylinder chamber, & on the shot barrel w hich also bears the guage number "18". The top barrel flat is marked in italic capital letters "LEMAT & GIRARD'S PATENT LONDON". All markings are clear. Both bores are bright. The finely checkered grips show signs of honest use & handling but no abuse. There is a small tight age crack at the upper forward portion of the right grip panel. This is one of the lowest numbered London LeMat revolvers known.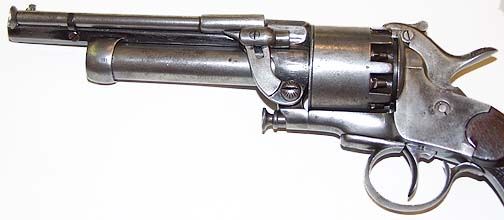 7 photos. Use password "attack" to view.
CMH Forum is maintained by The Company of Military Historians with WebBBS 5.12.